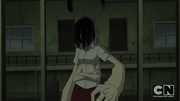 Breach is an EVO from Generator Rex.
character history
Edit
she was able to break herself free of the insane persona that she had to adopt in order to cope with working for the bad guy. The real Breach as a talented actress. Despite becoming uglier she prefers her mutated form then her old human appearance. When she was free of her alter ego she immediately went to Rex to confess that she was in love with him. However she still a little crazy.
Taking advantage of the fact that Vanclise wouldn't know that she betrayed him and yet she decided to help Rex capture her former team members sending Biowolf into a portal and curing Skullamander.
after coming to the planet she's been meaning to start a theater group but never got around to it.
Relationships
Edit
she has been in love with Rex for a long time and now that she's mentally back to her old self she's able to be a girl girlfriend to him.
Ad blocker interference detected!
Wikia is a free-to-use site that makes money from advertising. We have a modified experience for viewers using ad blockers

Wikia is not accessible if you've made further modifications. Remove the custom ad blocker rule(s) and the page will load as expected.