[[File: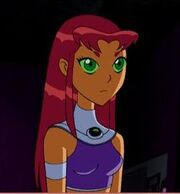 |right|300px]
Queen StarFire, a Tamaranean In one of the founding members of the planet. Former member of the teen Titans.
Character history
Edit
one day StarFire entrusted her only female friend Raven with what she considered to be her darkest secret. That she was a lesbian even though she didn't know the term proper. She then later revealed that LGB ( there are no transgendered Tamaraneans) When discovered where stripped of their emotions and basically became empty shells. Raven convinced her that she needs to fight this.
Appearance
Edit
Queen StarFire looks very much like the Canon self. She typically wears long regal purple robes and carries a staff when on official business.
Ad blocker interference detected!
Wikia is a free-to-use site that makes money from advertising. We have a modified experience for viewers using ad blockers

Wikia is not accessible if you've made further modifications. Remove the custom ad blocker rule(s) and the page will load as expected.