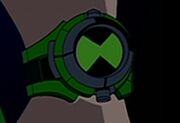 the Omnitrix also known as the watch is an advanced alien device from the universe Ben 10.
Character history
Edit
the watche's female artificial intelligence was activated soon after coming to the planet she still carries out her primary function of turning her wielder into different aliens but she also occasionally turns into a fembot.
Ad blocker interference detected!
Wikia is a free-to-use site that makes money from advertising. We have a modified experience for viewers using ad blockers

Wikia is not accessible if you've made further modifications. Remove the custom ad blocker rule(s) and the page will load as expected.